Linking up with
Tami
for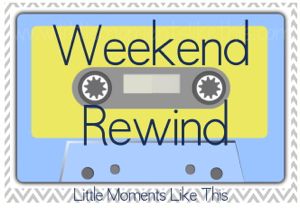 We had a pretty great, relaxing weekend.
Friday my
sister
and I went grocery shopping (which includes a trip to Aldis, Kroger, and Meijer...phew!!) and decided to surprise the kids and got everything we need to make S'mores.
So after picking up some Pasta Hut for dinner we headed outside and started the fire. Ellie had never had S'mores and she L.O.V.E.D. them! I would turn my heard for a second and she would be sneaking marshmallows out of the bag
Saturday we had a low key day at home and Ellie spent time playing with and feeding her baby. It cracks me up how much she learns just by observing!
Sunday we went to a BBQ for my Step-brother-in-laws 30th birthday. There was a black lab puppy and Ellie was o.b.s.e.s.s.e.d. She followed her around all day. Mike kept trying to convince me that Ellie needs a puppy but I DO NOT agree.
It was like 908 on Sunday so I to the garage sale down the road and bought a new (still in the package) baby pool and after naps the kids loved playing in it. Well except for Ellie, if you dipped her in it she said "no,no,no,no don't". And no one would sit down in it because the water was freezing cold. What are ya gonna do? Maybe the water will actually be warm by the end of the week!
Hope you all enjoyed your weekend!
Don't forget to check out my
giveaway
to win this gorgeous tutu!!