Linking up with
Katie
for our Saturday Morning Scene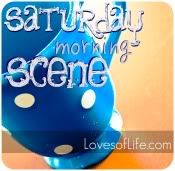 We let daddy sleep in since he went back to crazy hours at work and had some girl time this morning
She learned real quick that she has to duck if she's going to go under the table! So now she shimmy's under there like a pro!!!
I just can't believe how big she's getting!
Then we made some of this for the BBQ at my dads house this afternoon.
I just wish it wasn't almost 100* out today...but I guess it's fitting seeing as it's the last weekend of summer.
What are you doing this H.O.T. Saturday?