Today for the first time I'm going to link up with
Loves of Life
for our Saturday morning scene.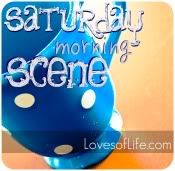 I woke up to some adorable cooing from this pretty girl and after a diaper change and some breakfast we chatted and played a little bit in our bed
Grandma is coming over to spend some time with Ellie this morning so that Daddy and I can go out on an afternoon date for some MUCH needed alone time. It's been too long since we've spent time together. So we are busy tidying up the house and getting everyone ready for the day. OK, you caught me, this picture was from Thursday but this is definitely what I see in the future for today. I can't wait to enjoy this beautiful day, and spend some time with my husband. We're going to see Something Borrowed, YES!!!
What are you doing on this beautiful Saturday?