I'm linking up with
Loves of Life
this morning for our Saturday Morning Scene.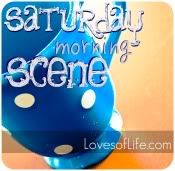 I think someone woke up with their cranky cloth diaper on today! Either that or she's just ticked I won't let her chew on her tag. This girl has a pretty extreme obsession with tags.
We might have to do a 12-step program sometime in the future
. Mike let me sleep in until 10, love that man, then headed off to see a movie with his dad for his dad's birthday. So it's Ellie and I hanging out until they come home for a BBQ around 1:00. Which may turn into a Burgers on the George Foreman-BQ cause it's lookin like a chance of rain!
This is what I had for breakfast
Egg, turkey, and cheese omelet. Yes, I put ketchup on everything my eggs. Don't judge.
This is what I really wanted to eat for breakfast
Chocolate Reese's peanut butter chip cookies. Yes, please.
Ellie got a new jumper yesterday. So this is what her morning looked like
Check out that baby mullet!
This picture is from yesterday but this is the only thing that captures her current state.
She just went from 0 to 60 for no apparent reason.
So I'm going to go calm down Miss Emotional
What are you doing on this wonderful Saturday morning?